UPPER BLEPHAROPLASTY RALEIGH
Upper Eyelid Blepharoplasty in Raleigh, NC | JIYA
Raleigh upper eyelid surgery can be a life changing procedure. The eyes are one of the most formative aspects of your facial features. Thus, if they begin to change and/or look aged, this can cause distress. Common concerns that patients present with include eyelid drooping, skin sagging, a perpetually tired look, and even obstructed vision. The routine way to address these concerns is with a surgical procedure known as an upper blepharoplasty. The Jindal Institute for Youthful Aging offers the best upper blepharoplasty Raleigh, NC provides.
Upper Blepharoplasty Surgery Raleigh
Upper blepharoplasty Raleigh, NC removes extra skin and tissue on the upper eyelids that contribute to sagging and drooping of the eyelids. While most often performed on patients over 40, some younger patients may benefit from the procedure. Beyond the cosmetic effects, blepharoplasty surgery can also improve vision and overall function of the eyes in certain situations.
Raleigh upper eyelid surgery evenly performed on men and women. It is considered one of the least painful and safest elective procedures. Additionally, the incisions are hidden within the crease or fold of the eyes. Not only does this hide scars, but as the skin is rather thin in this area, it requires less healing and is less likely to produce raised or overly visible scars. Like the safety of the surgery, Raleigh upper eyelid surgery is associated with some of the least visible scarring of any cosmetic surgery.
Causes Of Upper Eyelid Sagging
The eyelids can sag for a multitude of reasons. While age is one of the largest factors, other factors can contribute to why the eyelids begin to sag. Some of the causes of upper eyelid sagging include:
Genetic predisposition

Injury to the eye and/or eyelid

Horner syndrome

A complication of cataract surgery

Eye tumor

Diabetes

Sagging of the brows

Congenital eye weakness or feature

Reduction in collagen production with age

Stretching of surrounding muscles
The need for Raleigh upper eyelid surgery is most commonly caused by a combination of natural aging and genetic predisposition. Eyelid sagging itself can also contribute to other problems. In severe cases, it can even obstruct the vision. Often, when this occurs, patients will have multiple contributing factors only making an eyelid surgery more necessary.
Benefits Upper Eyelid Fat Removal Raleigh
Certain medical conditions such as allergies and several eye issues can make eyelid sagging more prominent or likely as you age. While it is rare for eyelid sagging to cause major vision obstruction, it can occur. Therefore, getting ahead of eyelid sagging can help both your aesthetic appearance and future eyesight.
Correction of a perpetually tired or angry appearance

Increase in the visual field

Removal of extra eyelid skin

Tightening of underlying muscles

Addresses crepey skin texture

Removal of extra fat on the eyelids

Scars are often imperceptible once healed

Low risk
Surgery usually takes less than one hour

Easy recovery for most patients

Performed under local anesthesia

Long lasting results

Side effects are generally minor

Can reduce headaches in some patients

Ability to combine with other surgeries such as brow lift,
lower blepharoplasty, and laser resurfacing
Upper Blepharoplasty Raleigh From Start To Finish
Upper Eyelid Surgery Consultation
Before undergoing Raleigh upper eyelid surgery, you will meet with Dr. Sumeet Jindal to discuss your goals for surgery and the procedure itself. This can take place either in office or virtually. The consultation appointment includes an in-depth discussion of your expectations for surgery, medical history, and goals.
Dr. Jindal will likely physically examine the area to determine the amount of extra skin and laxity present, and whether there is any brow ptosis (drooping of the brow) or eyelid ptosis (drooping of the eyelid) that needs to be corrected at the same time. This physical exam helps Dr. Jindal conclude if upper blepharoplasty Raleigh, NC is the right procedure and if you are a good candidate. If you are a good candidate, Dr. Jindal will describe the expected results, benefits, and risks. If not a good candidate, Dr. Jindal may present alternatives that can help you meet your aesthetic goals.
The Jindal Institute for Youthful Aging takes a holistic approach to upper eyelid fat removal Raleigh. Instead of immediately recommending surgery, Dr. Jindal will determine that you will not receive adequate results or reach your goals with non-surgical procedures first. This unique approach means that every patient receives individualized care that takes them into mind instead of a cookie cutter experience.
Blepharoplasty Surgery Day
Dr. Jindal performs upper blepharoplasty Raleigh, NC with local anesthesia. Total sedation via general anesthesia is not usually needed unless undergoing several procedures or in special cases. Before surgery, eye covers are placed over the eyes themselves to prevent damage to the eyeball. Once you are properly anesthetized, Dr. Jindal will make the initial incision along the inner crease of the eyelid.
hrough this incision, Dr. Jindal precisely cuts away extra skin, removes and rearranges fat pads, and may tighten the muscles around the eyelid. He will repeat this process on the other eye and stitch the incisions when he achieves the desired result. Upper eyelid fat removal Raleigh typically takes under one hour.
Upper Blepharoplasty Recovery
As far as pain and discomfort after Raleigh upper eyelid surgery, many patients do not need prescription pain medication and get by with over-the-counter pain relievers. Often the hardest part of an upper blepharoplasty recovery is the required eye rest which removes many common recovery activities such as watching TV and reading from your allowed activities. Thankfully, for most patients, this period is only one to three days.
Minor swelling and bruising can also occur. Normally, these side effects subside in about seven to ten days which is when patients, on average, return to work. Dr. Jindal may instruct you to elevate the head of your bed or apply cool compresses to help alleviate side effects following upper blepharoplasty Raleigh, NC.
You need to refrain from strenuous exercise for at least two weeks. Basic everyday walking is usually fine once you feel up to it. Also, keep your incisions out of the sun as much as possible and do not get them wet. Usually, patients cannot shower for two to three days. It is usually suggested that patients shower the day of or before Raleigh upper eyelid surgery.
Frequently Asked Questions
Upper Blepharoplasty Procedure Video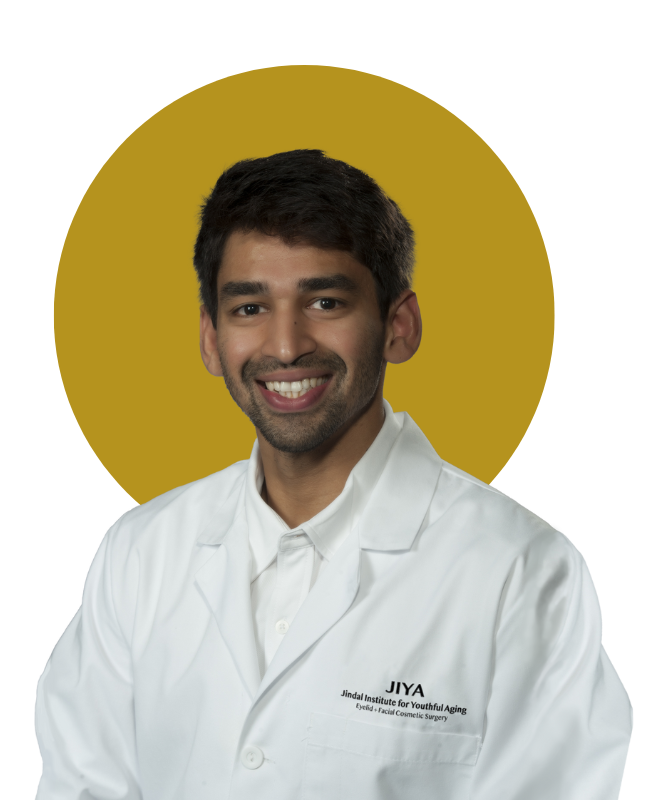 The Best Upper Eyelid Fat Removal Raleigh At JIYA
Dr. Sumeet Jindal is a qualified and experienced oculoplastic surgeon who has performed both medical and cosmetic eye surgeries, including upper eyelid fat removal Raleigh. Along with eye plastic surgeries, Dr. Jindal specializes in other facial plastic surgeries such as facelifts, brow lifts, and liposuction. The Jindal Institute for Youthful Aging provides the best upper blepharoplasty Raleigh, NC offers. 
When consulting and treating patients for a Raleigh upper eyelid surgery, Dr. Jindal takes a holistic approach that includes treating each patient as an individual instead of simply performing the same surgery and treatment. He also will consider all possible procedures including non-surgical ones. This helps ensure that you receive the absolute best treatment for you and your concerns.
To learn more and schedule a consultation with Dr. Jindal, call us or reach out online via Price Simulator or contact form.