Raleigh Eye Lift - Lower Blepharoplasty Raleigh, NC | JIYA
The under eye area is susceptible to aging due to the natural thinness of the skin and fat in the area. In some cases, the under eyes may become hollow which contributes to a gaunt and aged appearance. However, other times, skin and fat may bunch up underneath the fat as facial structures descend due to age. This can cause puffiness and visible bulges under the eyes. One of the recommended treatments for this is to remove the extra skin and tissue via a lower blepharoplasty surgery. Dr. Sumeet Jindal at the Jindal Institute for Youthful Aging provides the best lower blepharoplasty Raleigh offers.
Lower Blepharoplasty Overview
Lower eyelid surgery Raleigh, NC is a surgery that removes extra skin from the lower eyelids. The amount of skin removed will vary widely. Dr. Jindal may also remove or reposition portions of fat for the most youthful appearance possible and avoid a hollowed appearance which can happen due to over resection of the skin.
Most lower eyelid blepharoplasty Raleigh, NC patients are over forty. This is because more advanced signs of aging, particularly around the eyes, tend to form. Lower lid surgery is usually an Hour or less and often combined with upper blepharoplasty.
Causes Of Extra Lower Eyelid Skin
Bags under the eyes related to extra skin can occur for many reasons. The most common one is the natural aging process, but there are sometimes other contributing factors. Some of the causes of extra skin on the lower eyelids can include:
Descending tissue due to aging
Reduced collagen production and cell turnover
Lack of sleep (normally temporary bags, but regular sleep deprivation can worsen the appearance of the under eye area)
Smoking
Allergies
Genetics
Certain medical conditions such as thyroid disorders and renal disease
Weakening of surrounding muscles
Often, there are multiple causes of extra under eye skin and the aging process overall worsens it. Ultimately, the cause of under eye bags is less important than their current state. Dr. Jindal will examine the amount of extra skin and other structures during a consultation.
Lower Blepharoplasty Benefits
A lower eyelid lift comes with many benefits for people with unwanted eyebags and who want to look younger. Some of the advantages and benefits you may experience during and after lower blepharoplasty surgery include: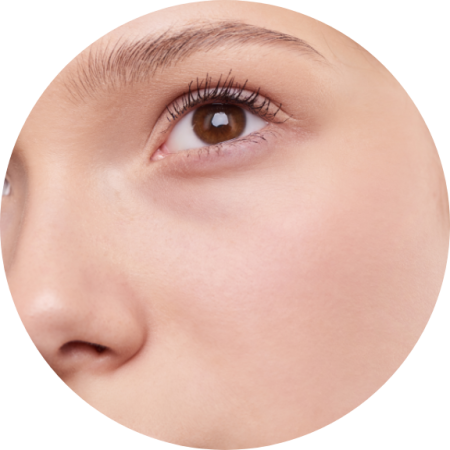 Removal of under eye bags and puffiness
Restoration of a younger facial appearance
Tightening of nearby muscles if necessary
Removal of excess fat
Can reposition fat into a more youthful position
Tightening of under eye skin
Short surgical time
Considered to have a relatively easy and minimally painful recovery
Can be performed under local anesthesia
Combinable with other procedures
Customized to fit each patient
Performed by an oculoplastic surgeon with experience in medical and cosmetic eye surgeries
Blepharoplasty Raleigh, NC Consultation
During a consultation for lower eyelid surgery Raleigh, NC, Dr. Jindal will ask you about your goals for the procedure and treatment preferences. He may also inquire about your medical history and lifestyle. After this in-depth discussion, Dr. Jindal may examine your under eyes and surrounding areas. 
If you are a good candidate for lower eyelid blepharoplasty Raleigh, NC, Dr. Jindal will describe the surgery and all of your possible options for a Raleigh eye lift. At the end of the appointment, you will receive a finalized price quote and financing information.
Lower Blepharoplasty Technique
When performing a lower blepharoplasty, there are two primary surgical techniques Dr. Jindal can use to restore more youthful looking eyes. The right technique will depend on how much correction you need, your anatomy, your goals for the surgery, and several other factors. The two most common lower eyelid surgery techniques include the transconjunctival technique and the skin only technique.
The
transconjunctival blepharoplasty
method consists of making the incision underneath the lower eyelid in the conjunctiva—the outer membrane that both protects the eyeball and connects to the underside of the skin of the under eye. The eyeball is covered and completely protected during this process.
Once the incision is made, it offers Dr. Jindal access to the fat and muscles in the area. He may remove some of the fat as well as reposition it. If
needed, he may tighten the eye muscles. From there, he will suture the lid back into place. Using a careful technique that pinches the excess skin, he will remove it using a technique that does involve an incision and rarely ever scars.
The benefit of this technique is that Dr. Jindal can easily access the fat layers to remove and reposition them. It also is sometimes called a "scarless blepharoplasty" because there are no external incisions.
2.) With Fat Transfer Technique
While the focus of lower blepharoplasty is to remove under eye fullness, occasionally patients may need a small amount of volume added. This can help maintain the symmetry or as an alternative to fat repositioning. Similar results can be achieved after surgery with dermal fillers under the eyes. Fat transfer can be performed with either a transconjunctival or skin only blepharoplasty.
Frequently Asked Questions
Blepharoplasty Raleigh NC Before & After Photos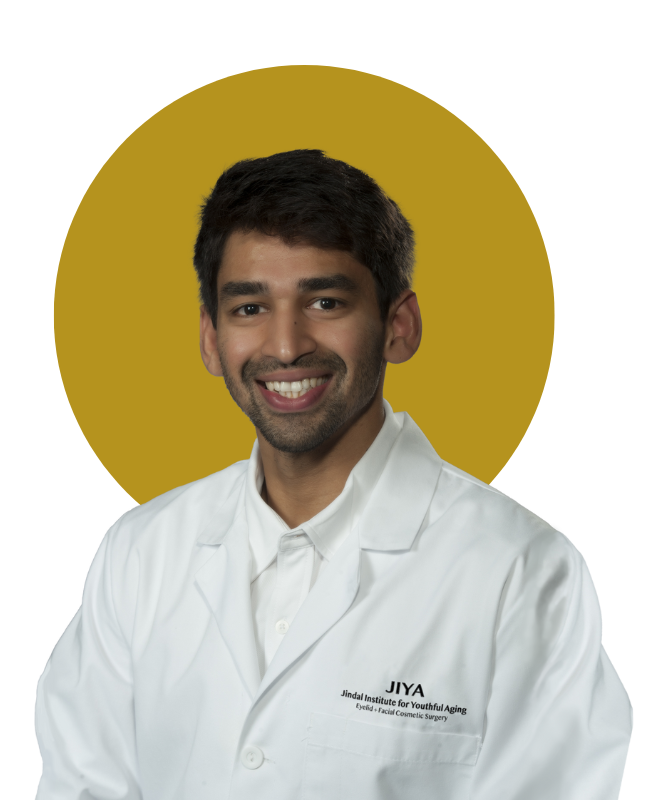 The Top Lower Blepharoplasty in Raleigh
Dr. Sumeet Jindal is a qualified and experienced oculoplastic surgeon who has performed both medical and cosmetic eye surgeries. Along with eye plastic surgeries, Dr. Jindal specializes in other facial plastic surgeries such as facelifts, brow lifts, and liposuction. The Jindal Institute for Youthful Aging offers the best lower blepharoplasty Raleigh provides.
When consulting and treating patients, Dr. Jindal takes a holistic approach. This includes exploring the patient's lifestyle, all non-surgical options, and valuing the least invasive solution. This helps ensure that you receive the absolute best treatment for you and your concerns.
To learn more and schedule a consultation with Dr. Jindal, call us or reach out online via Price Simulator or contact form.