Mini Facelift Raleigh, NC
Mini facelift surgeons have evolved traditional facelift surgery to become less invasive and more effective. Involving a limited incision and easier recovery, a mini facelift is performed under local anesthesia. This helps reduce risks and is the latest revolution in facelift surgery that has made it even better for prospective patients. Reducing the need for more extensive facelift procedures, The Jindal Institute for Youthful Aging performs the best mini facelift Raleigh, NC offers.
The best mini facelift Raleigh NC provides is a smaller version of a standard facelift. The procedure is generally considered best for patients in their forties and fifties who do not yet qualify for a traditional full facelift. A mini facelift consists of small incisions and eliminates hairline incisions sometimes utilized during traditional facelift surgery.
The mini facelift procedure typically takes around an hour. Dr. Jindal performs mini facelift surgery under local anesthesia. Local anesthesia significantly reduces risks and immediate surgical side effects. Therefore, Dr. Jindal often recommends local anesthesia. Though, there are cases where general anesthesia may be necessary or desired.
Benefits of Mini Facelift
Mini facelift surgery comes with many benefits and advantages, Some of the benefits include:
More youthful appearance
Extra skin removal
Correction of saggy jowls
Tightening of lax facial muscles
Improve skin laxity
Removal of excess fat and facial tissue
Correction of loose skin on the face
Minimal scarring
Limited need for pain medication
Less downtime
Often considered an easier recovery
Results can be comparable to a more extensive procedure
Combinable with other facial procedures
Customized to fit each patient
The risks a mini facelift carries for you will depend on your medical history, specific procedure, and the type of anesthesia administered. Some mini facelift risks include:
Infection
Bleeding
Prolonged or severe side effects (such as bruising)
Reactions to anesthesia (applies only to general anesthesia)
Skin necrosis
Nerve injury
Hematoma
Asymmetry
Unsightly scarring
Major complications of a mini facelift in Raleigh are rare. Dr. Jindal will evaluate you before surgery to ensure that you are a good candidate and carry few risks. He also takes care before, during, and after surgery to reduce risks in any way he can.
Mini Facelift Vs. Facelift
A mini facelift and a traditional facelift have similar goals. They both aim to correct more advanced signs of aging as they affect the lower and mid-face. The primary difference is the extent of correction they can provide and the size and number of incisions.
Mini facelift surgery does provide less correction than a full facelift. It will address the lower face but offers minor improvements to the mid-face. Also, it often does not include the upper hairline incisions which can sometimes provide some additional correction to the upper face. This is why the patient demographic for a mini facelift tends to be younger and have less advanced aging.
A full facelift is the most commonly performed facelift surgery. However, decades ago, patients who did not need the extensive correction but could not get the results they wanted with non-surgical treatments underwent full facelifts. This was often unnecessary and made these patients more susceptible to an unnatural result. Still, a traditional facelift does offer more correction like a deep plane facelift and is ideal for patients with more prominent sagging and aging.
Mini Facelift Raleigh, NC From Start To Finish
Raleigh Mini Facelift Consultation

The first appointment at JIYA is a consultation with Dr. Jindal. This consultation can take place in person or virtually. During your discussion, he will determine if you are a good candidate for a mini facelift. You will have the opportunity to ask any questions and determine if Dr. Jindal is the right fit among mini facelift surgeons for your surgery.
Dr. Jindal will bring up several talking points during the consultation including what your expectations and goals are, specific concerns, medications you take, if you smoke, and your medical history. He may also physically examine the lower face to evaluate skin quality, loose skin, and muscle tightness.
Following this, Dr. Jindal will decide if you are a candidate or not. Based on your medical history, he may want you to obtain clearances, testing, or records. Otherwise, he will describe what you can expect from the procedure and results. If you are not a good candidate, Dr. Jindal may posit other procedures or alternatives to help achieve your goals.
Mini Facelift Surgery
On the day of surgery, either Dr. Jindal will administer local anesthesia or a licensed provider will provide general anesthesia. Once you are properly anesthetized, Dr. Jindal will start by making a mini facelift incision. It typically starts in the sideburn/hairline area near the temple and then works its way down past the earlobe. It is either behind or in front of the ear.
Through this incision, Dr. Jindal will tighten the muscles, remove extra fat and tissue, and finally trim the excess skin. He then repeats this process on the other side. At this point, you should start to become more coherent.
Mini Facelift Recovery
Immediately after your mini facelift, you will need to have a caregiver drive you home and take care of you for the first 24 hours. This protocol is generally followed regardless of anesthesia type because a sedative is provided both. While Dr. Jindal will encourage you to get up and walk occasionally, rest is the most important to your recovery.
Dr. Jindal prescribes pain medication and an antibiotic after surgery, as well as some dietary recommendations to aid in your healing. Many of Dr. Jindal's patients elect to use IV therapy provided by JIYA to help speed their recovery. Within a day, most patients feel reasonably okay to do basic tasks on their own. Though, you should continue to rest and avoid any activities that involve exerting yourself as well as sun exposure.
Some of the other instructions you can expect of mini facelift surgeons include:
Elevate the head of the bed and/or sleep in a recliner
Do not submerge or wet the incisions
Continue to avoid NSAIDs
Get up and walk frequently
Follow dietary recommendations
Avoid wearing makeup or applying products for at least one week
Wear a compression garment or wrap if required
Wait four to six weeks before resuming injections or professional skincare like chemical peels
Attend all post-operative appointments
If from far away, remain in the area for at least one week
Frequently Asked Questions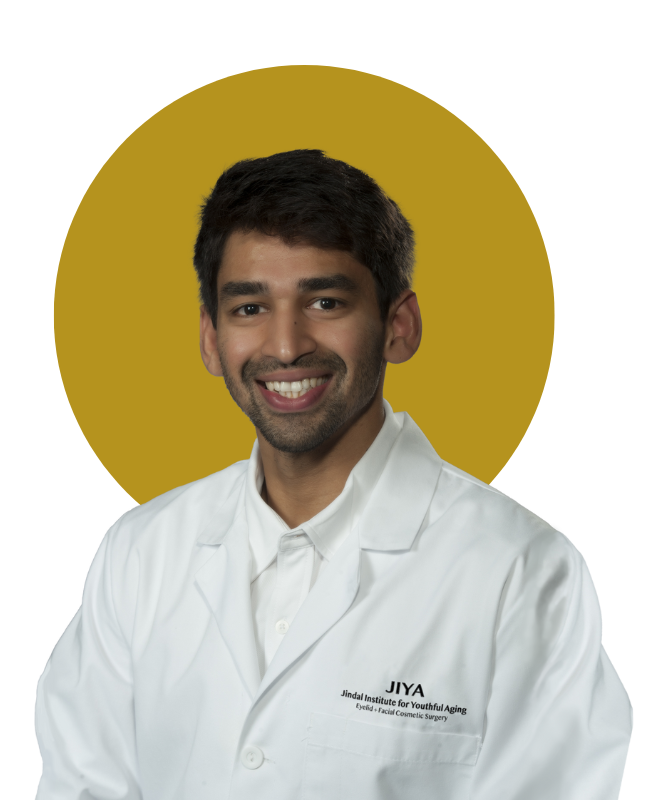 The Best
Mini Facelift in Raleigh
Dr. Sumeet Jindal is a qualified and experienced oculoplastic surgeon. He specifically focuses on facial plastic surgeries including facelifts, brow lifts, and liposuction. His experience performing both medical and cosmetic surgeries on the eyes and face make him uniquely and exceptionally qualified. The Jindal Institute for Youthful Aging provides the best mini facelift Raleigh offers.
When consulting and treating patients, Dr. Jindal takes a holistic approach that includes treating each patient as an individual. Dr. Jindal does not simply perform the same surgery the same way every time. He also will consider all possible procedures including non-surgical ones. This helps ensure that you receive the absolute best treatment for you and your concerns.
To learn more and schedule a consultation with Dr. Jindal, call us or reach out online via Price Simulator or contact form.