Brow Lift Surgery Specialist in Raleigh, NC | JIYA
The foremost brow lift specialist Raleigh, NC evaluates facial aging in thirds: the upper face, midface, and lower face. The brow is of specific importance since it is often one of the first structures to show aging in the upper face. This may include sagging of the brows, wrinkles, loss of skin laxity, and skin thinning. The most frequently performed surgical cosmetic procedure for the upper face is a brow lift. The Jindal Institute for Youthful Aging provides the best endoscopic brow lift Raleigh offers.
A brow lift specialist can achieve several outcomes with brow lift surgery Raleigh, NC. Whether you want to treat the effects of slowed collagen production, sun damage, or genetics, an eyebrow lift can help correct descended and sagging structures of the forehead, eyebrows, and hairline. While there are several options to treat these signs of aging, facial plastic surgeons prefer forehead lift surgery for moderate to severe cases.
Regardless of the surgical technique used, the goal of brow lift surgery tends to be similar among patients. Of course, some natural deviation will exist due to a patient's anatomy, goals, and overall needs. Some of the common goals of an eyebrow lift surgery include:
Reduce or eliminate wrinkles on the forehead
Address sagging of the eyebrows
Provide some enhancement to the upper eyelid area
Enhance the position of the brow into a more youthful position
Remove extra skin
Correct asymmetry
Address a perpetually tired or grumpy appearance
Ultimately, brow lift surgery aims to create a more youthful looking upper face and reposition the eyebrows which can begin to naturally sag over time.
Endoscopic Brow Lifts Surgery Raleigh, NC
The endoscopic brow lift technique is a minimally invasive surgical brow lift that uses a visualization tool known as an endoscope. This helps Dr. Jindal identify important facial structures and either treat or avoid them. Thus, allowing Dr. Jindal to make smaller incisions and take a less invasive approach. An endoscopic brow lift will work for most brow lift patients. However, open techniques may become necessary for those that need more extensive correction such as to address visual obstruction.
The incisions for an endoscopic brow lift can range between two to five small incisions across the hairline. Furthermore, they do not connect and generally remain well hidden within the hairline once healed. The endoscope is contained within a small tube, which means that it does not require large incisions.
Surgeons widely use endoscopes in the medical and plastic surgery fields. Other uses of endoscopes include gastric sleeve surgery, facelifts, and even body plastic surgery procedures. Therefore, they are considered a safe option for maximizing surgical precision.
Benefits & Risks Eyebrow Lift
An endoscopic forehead lift—like all surgeries—come with benefits and risks for each patient. Some patients may have higher risks than others. Additionally, the benefits can vary depending on the patient. First, let's look at the benefits of an endoscopic brow lift in Raleigh.
Correct sagging skin

Reduce wrinkles and fine lines such as frown lines

Repositions eyebrows for a younger appearance

Can restore an approachable expression

Less scarring than traditional brow lift methods

Fewer complications than other brow lift techniques

May reduce recovery time

Short incisions

Incisions are hidden in the hairline
Quick procedure

Performed under local anesthesia

Outpatient surgery means you will go home the same day

Long lasting results

Easy and safe to combine with other facial plastic surgeries

Safe and effective procedure

Minimally invasive

Performed by an experienced oculoplastic surgeon
While the risks of the endoscopic technique are reduced when compared to other brow lift techniques, all surgical procedures come with some risks. For the average person, the overall risks are extremely low for an endoscopic brow lift. The risks can include:
Infection

Asymmetry

Visible scarring or poor healing

Fluid collection

Prolonged side effects such as visible swelling and bruising lasting longer than two weeks

Skin necrosis

Numbness
For the most part, lasting or permanent adverse effects are rare, especially having an endoscopic brow lift under local anesthesia. Many side effects or adverse effects will resolve on their own with basic treatment.
Dr. Jindal can perform brow lifts in a variety of ways. The right surgical technique will depend on the patient's anatomy, goals, and medical history. This will be discussed during a consultation at the Jindal Institute for Youthful Aging. Below are three other types of brow lifts that are commonly performed.
1.Direct Brow Lift
A direct brow lift uses an incision just above or below the eyebrow during brow lift surgery Raleigh, NC. It is called a direct brow lift because it directly addresses and makes an incision at the eyebrows. This technique is preferred in patients who have bushy brows that will likely cover the incision. It can also allow patients such as bald men who cannot hide traditional incisions in their hairline, the opportunity to enhance their brows. Also, patients who may only need a brow lift on one side are often good candidates for this technique.
The direct brow lift usually only addresses skin and is less likely to repair the muscles. However, for many patients, this is not a problem. For patients hoping to address their entire forehead and not just the brow area, a direct brow lift may not be the recommended surgery by a brow lift specialist North Raleigh.
2.Coronal Brow Lift
A coronal brow lift moves a brow lift incision well behind the hairline. It is considered the traditional brow lift method and involves skin removal, muscle tightening, and lifting the brows. It is more invasive than an endoscopic brow lift surgery, but can address more advanced aging.
The coronal approach may not be suitable for those experiencing hair loss or those who do not need as much correction. Dr. Jindal can discuss whether a full coronal brow lift is the best option for you.
3.Trichophytic Brow Lift
The trichophytic brow lift—instead of raising or repositioning the hairline—removes a portion of forehead skin. Like with other methods, Dr. Jindal hides the incision either alongside or within the hairline. Often, facial plastic surgeons prefer this technique for patients who have a naturally high hairline already or where raising the hairline is not aesthetically pleasing
What You Can Expect From Brow Lift Surgery Raleigh NC
Following brow lift surgery Raleigh, NC, patients can expect a typical recovery following a cosmetic procedure. Your forehead, eyebrows, and surrounding areas may be placed in a compression garment or bandage to reduce swelling. An eyebrow lift recovery is generally not too painful for most patients and they can contact brow lift specialist, Dr. Jindal, during their recovery if they have any questions or concerns.
Forehead lift results should become visible to the patient in about a month. Final results from any cosmetic surgery can take nine to twelve months to fully settle. Patients are generally satisfied and see no major changes after about three to four months in most cases.
Frequently Asked Questions
brow lift surgery raleigh Before and After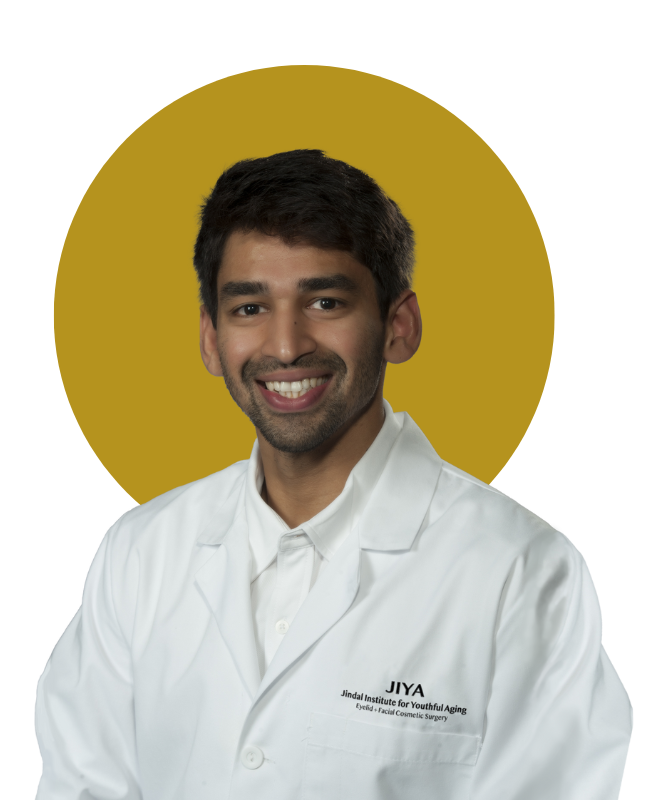 The Best Endoscopic Brow Lift In Raleigh
The Jindal Institute For Youthful Aging and Dr. Jindal are leaders in the Raleigh area when it comes to facial rejuvenation. Whether you are interested in injectables or a facelift, Dr. Jindal can help you put together a customized treatment plan that will address your unique anatomy and goals. The Jindal Institute For Youthful Aging offers the best endoscopic brow lift Raleigh performs.
Dr. Sumeet Jindal has several years of experience in facial surgery including within the ophthalmology and cosmetic industries. He is one of the top surgeons in the Raleigh area who addresses and treats facial aging. Dr. Jindal uses a comprehensive approach to recommend only the best treatments that fit your anatomy, goals, and preferences.
To learn more and schedule a consultation with Dr. Jindal, call us or reach out online via the contact form, chat, or Price Simulator.