Low Cost Chin Liposuction in Raleigh, NC | JIYA
When it comes to looking young, we often value the fat on our faces as an indicator of youth. However, it is not always ideally positioned or it is disproportionate. One of the most common examples is submental fat—commonly referred to as a double chin. This can lead to either a childish look in adults in their twenties or thirties. Likewise, it can also contribute to an aged, saggy appearance in those with more advanced aging. The Jindal Institute for Youthful Aging offers the best facial liposuction Raleigh provides for patients wanting to look their age and younger.
Understanding Facial Liposuction
From a procedure standpoint, facial liposuction is essentially the same as liposuction anywhere else on the body. However, the smaller scale, unique aesthetics, and precise anatomy of the face make this a much more complicated procedure than liposuction on larger body areas. Therefore, facial liposuction is generally carried out by an experienced facial plastic surgeon such as Dr. Jindal.
Dr. Jindal performs facial procedures under local anesthesia. This reduces risks and side effects while also keeping the patient perfectly comfortable. Since the average face lipo surgery is under one hour—sometimes even under thirty minutes—local anesthesia is viable and often preferred.
Facial liposuction is effective as a stand-alone treatment, but is also combined with other procedures for maximal benefit. Some of these include:
– Facetite for non-surgical face/neck skin tightening and additional contouring
– Morpheus8 RF Microneedling for non-surgical face/neck tightening and helping with fine lines/wrinkles
– InnerBeauty Fillers – using fat that was harvested via liposuction to fill in other areas of the face, such as the chin, cheeks, tear troughs, temples, or jawline to enhance your outcomes
– Hyaluronic Acid Fillers for volume and wrinkles
– Deep neck lifts, that address fat that is beneath the chin/neck muscles and can contribute to significant heaviness in the "double chin" area
Liposuction of the face has a specific patient type, but in the right person, can make a major difference. Several advantages and benefits of facial liposuction include:
More defined facial features

Less childish appearance; patients look closer to their real age

Remove descended or excess fat in the face

Improve and complement facelift results

Correct facial asymmetry

Harvest fat for transfer elsewhere on the face

Contribute to a younger look

Quick and minimally invasive
Long lasting, potentially permanent results

Performed under local anesthesia

Limited recovery and downtime

Small, hidden scars

Effective

Viable for adults of all ages

Safe and low risk

Performed by skilled oculoplastic and facial plastic surgeon
All surgical procedures come with some risks. Overall, the risks of facial liposuction are minimal. Thorough patient screening, local anesthesia, and customized recovery instructions help significantly reduce the risk of complications. However, even under ideal circumstances, there is a slim chance of an adverse reaction or effect. Some possible complications include:
Infection

Visible or raised scarring

Nerve damage

Skin necrosis

Damage to anatomical structures

Bleeding

Prolonged or severe side effects such as bruising or swelling

Unsatisfactory result

Hematoma
The majority of possible complications are avoidable and treatable. It is rare for a patient to experience permanent, negative effects following face liposuction. Dr. Jindal will discuss the risks and benefits and their relevance to you based on your medical history.
Types Of Facial Liposuction
Plastic surgeons perform liposuction all around the body. Since the face is smaller and contains more condensed fat, there are only a few areas where liposuction is possible. Additionally, even though it is possible in all of these areas does not mean liposuction in these areas is common or recommended in most situations.
Chin
Of the facial structures where liposuction is possible the chin is the most frequently performed facial lipo treatment. Also known as submental liposuction, chin liposuction can remove the pocket of fat that sometimes develops under the chin due to genetics, weight fluctuation, and other factors.
The procedure usually takes under an hour and can provide an overall slimming effect on the face. While common among patients in their twenties who never saw submental fat thin out, many facelift patients also undergo submental liposuction.
Neck
Neck liposuction removes extra fat that can settle on the neck due to age. It is sometimes combined with a neck lift, but there are times when fat can collect on the neck without the presence of extra skin. Like with chin liposuction, the procedure is around an hour or less and is performed under local anesthesia.
Jaw
Jaw liposuction is not overly common outside of facelift surgery or similar procedures. While the jaw can collect extra fat, it almost always comes with extra skin known as jowling which occurs during the more advanced signs of aging. During facelift surgery, Dr. Jindal may strategically use liposuction to improve and define facial features.
Cheeks
In recent years, cheek liposuction has fallen out of favor. Largely, this is due to the increased popularity of buccal fat pad removal which surgical excises cheek fat. The incisions are inside the mouth and the results are more reliable than liposuction. With lipo, patients and surgeons must rely on the structures to settle correctly.
Buccal fat removal takes out many of these factors. Still, there are some occasions where Dr. Jindal may recommend cheek liposuction or where liposuction is performed alongside buccal fat removal.
On the day of your facial liposuction in Raleigh at JIYA, the first step Dr. Jindal will take is to outline the liposuction areas. This prevents him from removing fat from areas where you want to keep it. It also lessens the chance of a hollowed look which can age the face.
Dr. Jindal will then inject a local anesthetic to numb the treatment areas. You may have also taken an oral sedative sometime before the procedure. Once properly numb, Dr. Jindal will make the first small incision to act as an entry point for the liposuction cannula. He may then use a blunt cannula to create tunnels and help break up the fat. The injected local anesthetic also aids in this process. Dr. Jindal then will start the suction to remove fat from the target areas.
As previously mentioned, this generally takes under one hour. You should feel little to no discomfort during the procedure. Immediate results may be noticeable, but final results take months to settle in.
Frequently Asked Questions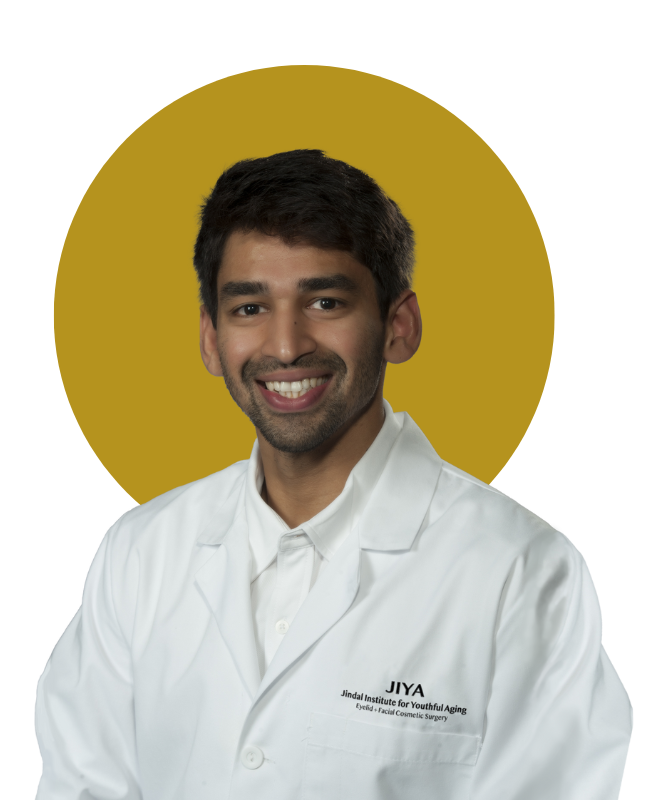 The Best Facial Liposuction In Raleigh, NC
Dr. Sumeet Jindal is a qualified and experienced facial plastic surgeon with a background in oculoplastics. Along with eye plastic surgeries, Dr. Jindal specializes in other facial plastic surgeries such as facelifts, brow lifts, and liposuction. The Jindal Institute for Youthful Aging provides the best facial liposuction Raleigh offers.When consulting and treating patients, Dr. Jindal takes a holistic approach. He treats each patient as an individual instead of simply performing the same surgery and treatment. He also will consider all possible procedures including non-surgical ones. This helps ensure that you receive the best treatment possible.