Facelift With Neck Lift Raleigh
Facelift & Necklift Package in Raleigh, NC | JIYA
The face, neck, and hands are the three areas of the body that tend to visibly become aged first. Largely, this is because these areas are almost constantly exposed to the sun and environmental elements year round. Since these highly visible areas are difficult to hide, many people choose to undergo procedures to prevent or treat aging. A facelift and neck lift are two procedures known to both help treat and prevent aging. The Jindal Institute For Youthful Aging provides the best facelift with neck lift Raleigh offers.
Combining Facelift & Neck Lift Surgery: The New Normal
Facelift and neck lifts are technically two separate procedures. A facelift addresses the lower third of the face by removing extra skin and tightening up the tissues. A neck lift does the same for the neck area. However, for both of these surgeries, it almost always spills over into the other area.
For example, when performing a neck lift, the excess skin is pulled upward towards the lower face. Often, this calls for a lower facelift to prevent more extra skin and sagging. While not always necessary for a good result, it is generally recommended that both the lower face and neck are corrected at the same time. 
A popular deviation of this is a facelift with platysmaplasty where the neck muscles are tightened, but little to no skin is removed. This procedure is great for patients with prominent neck bands or a "turkey gobbler" neck. 
Dr. Jindal frequently combines face and neck lifts with facial contouring via liposuction and fat grafting, upper eyelid surgery, lower eyelid surgery, browlifts, or laser skin resurfacing. He specializes in performing all his procedures under local anesthesia, which allows his patients to recover quickly and mitigate the risks associated with general anesthesia. 
Undergoing a combined facelift with neck lift procedure offers many benefits and advantages—both aesthetically and logistically. Some of the benefits include:
Younger facial profile

Overall more youthful appearance

Treatment of wrinkles on the face and neck

Extra skin removal

Corrects sagging skin

Tightening of the facial and neck muscles

Enhanced definition of the jawline

Eliminates the need for more surgical sessions when combined

Results complement each other

Reposition descended fat structures
May reduce the appearance of a double chin

Hidden, small incisions

Long lasting results

Safe and fairly low risk

Quick surgery (in most cases)

Limited recovery necessary

Performed under local anesthesia

Personalized results based on your anatomy and goals

Performed by a dedicated plastic surgeon who specializes in facelifts
From Start To Finish: A Facelift With Neck Lift
Consultation Appointment
The first appointment you will have at JIYA is a consultation to meet Dr. Jindal. During this meeting, he will determine if you are a good candidate for a facelift with neck lift. You will have the opportunity to ask any questions and determine if Dr. Jindal is the right fit for your surgery.
Dr. Jindal will bring up several talking points during the consultation including what your expectations and goals are, specific concerns you may have, medications you take, if you smoke, and other aspects of your medical history. He may also want to physically examine the lower face and neck to evaluate skin quality, amount of loose skin, and the tightness of the muscles.
Following this, Dr. Jindal will decide if you are a candidate or not. Based on your medical history, he may want you to obtain clearances, testing, or records. Otherwise, he will describe what you can expect from the procedure and results. If you are not a good candidate, Dr. Jindal will posit other procedures or alternatives to help achieve your goals.
Preparation
As mentioned above, the exact preparations you need to take may differ from another patient because of variances in health, medications, anatomy, etc. However, some basic instructions apply to most people. A few directions for preparing for surgery that Dr. Jindal may provide include:
Stop or start medications based on Dr. Jindal's instruction

Make lodging, transportation, and/or caregiving arrangements well in advance

Do not eat the night before (or day of) surgery

Wear loose clothing that buttons or zips up

Stop taking NSAIDs, blood thinners, and certain supplements with blood thinning effects if possible

Do not smoke

Make any hair appointments before surgery as you will not be able to dye or perm your hair for several weeks

Fill prescriptions before surgery

Ensure you understand the procedure and expected results
Surgery
On the day of surgery, local anesthesia is administered and potentially along with an oral sedative. From there, Dr. Jindal will make the necessary incisions. Usually, this consists of an incision behind each ear and potentially incisions in the hairline and directly under the chin. This will depend on the needs and extent of your surgery.
Through these incisions, Dr. Jindal will trim away extra skin and tighten the muscles. In some cases, he may also use liposuction to remove unnecessary and stubborn fat. Finally, before closing the incisions, Dr. Jindal pulls the remaining skin tight for younger looking contours of the face and neck.
Recovery
Immediately after your facelift with a neck lift, you will need to have a caregiver drive you home and take care of you for the first 24 hours. While Dr. Jindal will encourage you to get up and walk around occasionally, rest is the most important part of your early recovery. Dr. Jindal prescribes pain medication and an antibiotic after surgery, as well as some dietary recommendations to aid in your healing. Many of Dr. Jindal's patients elect to use IV therapy provided by JIYA to help speed their recovery.
Within a day, most patients feel reasonably okay to do basic tasks on their own. Though, you should continue to rest and avoid any activities that involve exerting yourself and sun exposure.
Other directions Dr. Jindal may provide for your recovery include:
Elevate the head of the bed and/or sleep in a recliner

Do not get the incisions wet

Continue to avoid NSAIDs

Get up and walk every hour or so

Follow provided dietary recommendations

Avoid wearing makeup or applying products for at least one week

Wear a compression garment or wrap if required

Wait four to six weeks before resuming injections or professional skincare like chemical peels

Attend all post-operative appointments

If from far away, remain close by for at least one week
Frequently Asked Questions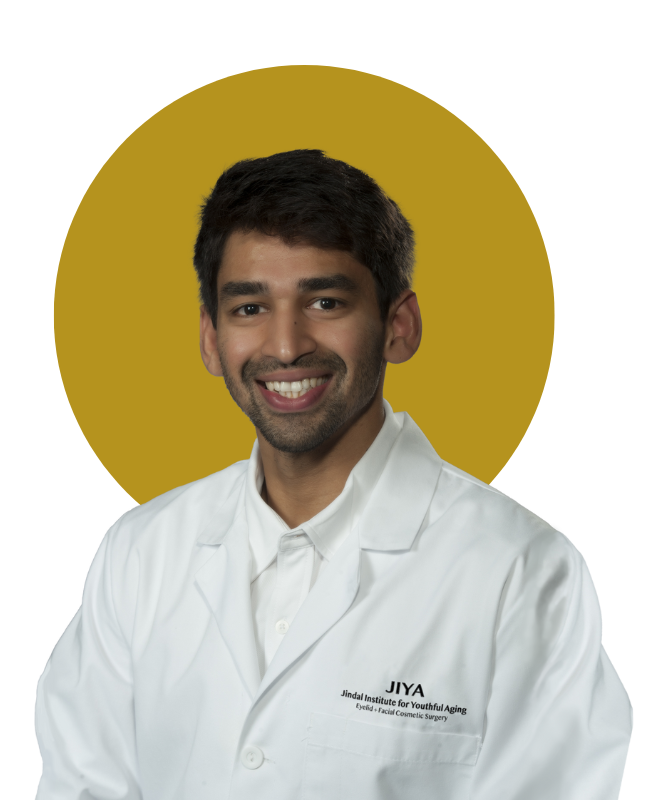 The Best Facelift With Neck Lift In Raleigh By Dr. Sumeet Jindal
Dr. Sumeet Jindal is an accomplished surgeon who specializes in facial plastic surgery and non-surgical facial rejuvenation. At his practice—the Jindal Institute of Youthful Aging—he focuses specifically on facial procedures, allowing him to provide them with higher precision and skill. He also is on the cutting edge of the industry by offering plasma injections and the newest skin tightening technologies and combines his procedures with IV therapy and dietary recommendations to help patients heal as quickly as possible
To learn more and schedule a consultation, call us or reach out online via contact form or Price Simulator.