Top Rated Fat Transfer Surgeon in Raleigh, NC | JIYA
Fat loss in the face is one of the first signs of aging. Losing the youthful volume can make the face look deflated, accentuate wrinkles, and lose definition. In younger patients, the loss may not be as pronounced, but generally makes them look tired and older than they are. Dermal fillers are one of the most popular options to remedy this. However, they are not permanent and some patients prefer a completely natural option. Fat transfer to the face is often the recommended option. The Jindal Institute for Youthful Aging provides the best facial fat grafting Raleigh offers.
Overview: Facial Fat Grafting
Fat cells on the body tend to collect in certain areas such as the abdomen, thighs, and hips much to the patient's chagrin. When a patient loses fat in the face, but has fat elsewhere on the body, this can cause them to feel older than they are and disproportionate. Dr. Jindal can take extra fat from other parts of the body and transfer them to the face.
The transfer of human fat is used in several other procedures. It is possible because as long as the transferred fat creates a blood supply in the new area, it will act like all other fat on your body. Not all of the transferred fat will successfully achieve this, but Dr. Jindal accounts for this by handling the fat very gently and using research-proven techniques to improve results.
While technically a surgical procedure, fat transfer to the face does not require full sedation. There are only small incisions—usually less than a centimeter long—in the donor and transfer areas.
Possible Donor & Transfer Areas
Anywhere with extra fat is a potential donor area for a fat transfer procedure. However, when it comes to the face, little fat is needed, so some areas often work better than others. Areas often used to harvest fat for a facial fat transfer include:
Abdomen

Thighs

Under the chin

Arms

Bra roll
When transferring fat to the face, it is most common to focus on the naturally fatty areas of the face as well as wrinkles. Some of the most frequently treated areas include:
Cheeks

Nasolabial folds (smile lines)

Temples

Under eyes

Lips

Marionette lines

Jawline
During your consultation, you and Dr. Jindal can discuss the possible donor and transfer sites and which will work best in your case.
A fat transfer to the face procedure comes with many benefits for adults of all ages. Depending on the areas where fat is transferred, patients may experience slightly different benefits. However, some of the advantages and benefits of a facial fat grafting procedure include:
Overall younger appearance

Reduction in fine lines and wrinkles

Plumper facial features

Enhanced features at the donor site

Natural look and feel

Almost no risk of rejection

Minimally invasive
Essentially permanent results

Little downtime and recovery

Limited need for pain management

Performed under local anesthesia

Small incisions

Incisions hidden within natural features

Performed by an experienced oculoplastic surgeon
Fat Transfer vs. Dermal Fillers
A fat transfer procedure and dermal fillers essentially achieve the same goal. However, one does so without any surgery and no recovery. While this may make it seem like dermal fillers are always the better choice, this is not true in all cases. The table below shows the major differences and considerations to make between both plumping options.
Fat Transfer

Dermal Fillers

Surgical

Uses patient's own fat

Not all of the fat will take hold in the treated area

Permanent

Completely natural

Local anesthesia necessary

Subtler results

Looks and feels the most natural

Costs more

Minimally invasive

Non-surgical

Uses fillers synthetically derived natural substances

All injected filler remains until it naturally is metabolized over several months

Temporary

Only topical numbing

More dramatic results possible

Costs less

Non-invasive

Takes under 30 minutes
Either a facial fat transfer or dermal fillers can provide amazing results. Dr. Jindal can help you evaluate each procedure and which is right for you.
Before & After Facial Fat Grafting
Consultation
At a consultation at the Jindal Institute for Youthful Aging, you will meet with Dr. Jindal to discuss if you are a candidate for facial fat transfer. First, he will want to get an understanding of your concerns and what you hope to achieve. From there, he may ask about your medical history and lifestyle. Finally, Dr. Jindal will perform a brief physical exam of the face and potential donor areas.
Ultimately, if Dr. Jindal believes you are a good candidate, he will discuss the donor areas and specifics of the procedure. Otherwise, he may recommend other procedures that may help you see the results you want such as dermal fillers, lower blepharoplasty, Facetite, or a facelift.
Procedure
Dr. Jindal performs Raleigh facial fat grafting surgery under local anesthesia. You may choose to take an oral sedative or have light IV sedation. Dr. Jindal will disinfect the donor area and transfer areas. He will then inject lidocaine into the donor areas and perform liposuction.
Once he harvests enough fat, Dr. Jindal will close the liposuction incision(s) and prepare the fat for transfer. This involves cleaning out impurities and placing it into a syringe for injection into the face. Your face is usually numbed with topical numbing cream, lidocaine, or both to make the fat injections more comfortable.
Dr. Jindal will precisely inject the fat into the targeted areas of the face. The entry points are usually typically a little bigger than one for dermal fillers. Still, they are unlikely to scar and are hidden within the natural contours of the face.
Recovery
Compared to other facial plastic surgeries, the recovery for a facial fat transfer is fairly minimal. Immediately after the procedure, you may notice some swelling and redness. Over the next few days, you may also experience some minor pain, especially when moving the face. Visible side effects generally subside within two weeks for most patients.
Dr. Jindal will provide personalized instructions based on your specific procedure. Some commonly recommended aftercare and recovery instructions include:
Sleep on your back

Prop up your head when sleeping

Avoid touching your face

Limit facial movements

Wear a compression garment

Do not partake in strenuous exercise for at least two weeks

Avoid NSAIDs like ibuprofen and aspirin

Maintain a good diet

Stay hydrated

Do not smoke

Use ice compresses as advised
Frequently Asked Questions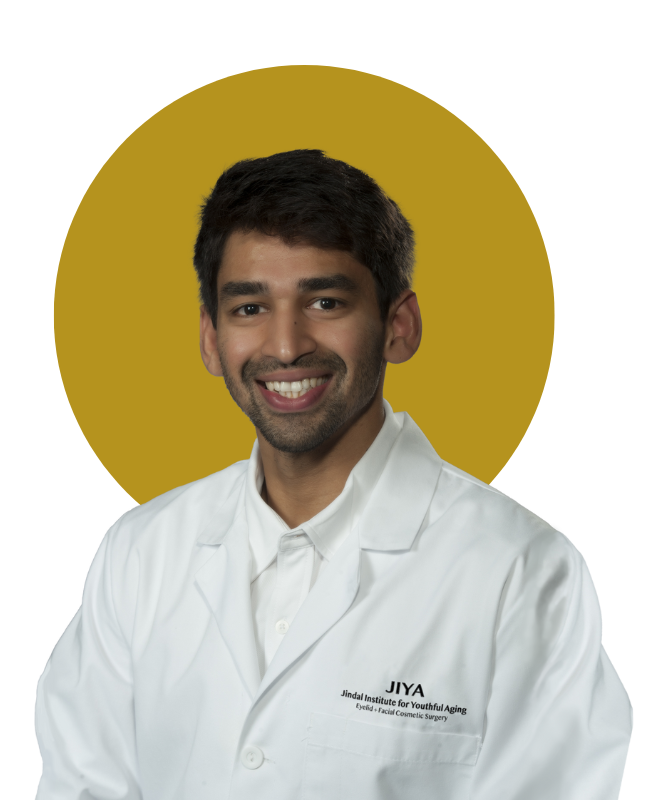 The Best Fat Transfer To The Face In Raleigh
Dr. Sumeet Jindal at the Jindal Institute for Youthful Aging is an accomplished surgeon who performs oculoplastic surgery, facial plastic surgery, and non-surgical anti-aging treatments. With experience in both medical and cosmetic facial enhancements, Dr. Jindal is the ideal provider for facial fat transfer surgery. The Jindal Institute for Youthful Aging offers the best facial fat grafting Raleigh provides.
When consulting and treating patients, Dr. Jindal takes a holistic approach that includes treating each patient as an individual. A fat transfer procedure will not suit every patient. Dr. Jindal will take his time to evaluate your needs, health, and lifestyle to recommend the best treatment plan for you.
To learn more and schedule a consultation, call us or reach out online via Price Simulator or contact form.