Facelift Surgeon in Raleigh, NC | JIYA
Aging is something we nearly all dread. The best facelift surgeons Raleigh offers often recommend a facelift surgery to address aging concerns. At the Jindal Institute For Youthful Aging, we take your individualized aging and concerns and create a personalized treatment plan that may include a facelift and other surgical or non-surgical procedures. We want to help you get the best and cheapest facelift in Raleigh, NC. Dr. Sumeet Jindal provides the best facelift Raleigh offers.
A facelift is a facial plastic surgery that repositions and elevates the sagging muscles and fat pads in the face while removing the excess skin for a more youthful appearance. With age, your skin loses laxity and begins to sag and bunch up. A facelift resolves this along the jawline, jowls, and chin. It may also sometimes correct up to the midface and down to the neck.
Most commonly, facelift patients fall around 55 to 65. Though, some older and younger patients may qualify for the procedure. It is also an extremely customizable procedure and works well in combination with other procedures such as laser resurfacing, neck lift, or eyelid surgery. Dr. Jindal will evaluate your specific facial structure and aging during a consultation to recommend the ideal treatment plan for you.
How to Get Cheapest Facelift In Raleigh, NC
Getting a cheap facelift in Raleigh does not have to be difficult. One of the best ways to get the cheapest facelift is to seek out facelift surgeons in Raleigh that offer facelift surgery under local anesthesia. This option is much cheaper than a facelift under general anesthesia. Dr. Jindal, one of the top face lift surgeons Raleigh offers, performs all of his surgeries under local anesthesia which allows him to offer one of the cheapest facelifts in Raleigh, NC.
Benefits & Risks of Facelift
Any surgical procedure comes with benefits and risks that each patient and their surgeon should weigh before surgery. First, let's look at the several benefits facelift surgery offers to Raleigh patients.
Extra skin removal

Removes or smooths many unsightly fine lines and wrinkles

Tightens the skin

Enhanced facial contours and profile

Removal of stubborn fat deposits

Reposition descended fat

Correction of "jowling"
Extra skin removal

Removes or smooths many unsightly fine lines and wrinkles

Tightens the skin

Enhanced facial contours and profile

Removal of stubborn fat deposits

Reposition descended fat

Correction of "jowling"
As far as the risks of a facelift, many of them are standard surgical risks that Dr. Jindal and surgeons know how to minimize via proper procedures. However, it is important to understand the potential risks of a facelift before opting to undergo surgery. Risks can include:

Infection

Prolonged swelling or bruising

Visible scarring

Asymmetry or undesirable result

Nerve damage
Skin necrosis

Hematoma

Blood clot

Temporary numbness or loss of sensation

Hair loss on or around the incisions
In most cases, if any complications or adverse effects occur, they are temporary and treatable. Permanent or untreatable complications are exceptionally rare. To help minimize risk, Dr. Jindal screens patients before surgery and customizes his pre-op and post-op instructions for each patient.
The Jindal Institute of Youthful Aging values a holistic approach to cosmetic treatments. Therefore, Dr. Jindal and his team offer a variety of treatments for non-surgical cheek enhancement that go beyond traditional fillers.
Surgical
Surgical facelifts have subtle differences. All—for the most part—include behind-the-ear incisions and address lower face sagging. The following includes the basic types of surgical facelifts:
Mini: A mini facelift is essentially a miniature version of a traditional facelift. It uses shorter incisions and treats a smaller area. It removes extra skin and corrects sagging, but is typically performed on younger patients with less severe facial sagging.
Standard: The most commonly performed facelift involves curved incisions behind the ear and the hairline. While their exact size can vary, they tend to start in the hairline and work down to the temple. Occasionally, Dr. Jindal may split these incisions into two instead of connecting them. Sometimes, a standard facelift may only use a larger behind-the-ear incision.
Extended: The most extensive form of facelift, an extended facelift, offers the most correction of all facelifts but may come with the consequence of more visible incisions. With this facelift, from the midface down to the neck may be addressed. An extended facelift is generally recommended for patients who have advanced signs of aging and large amounts of excess skin on the face. This may also include a deep plane facelift.
Non-Surgical
While impossible to get surgical results without surgery, some non-surgical options are available for patients unable to undergo surgery or those whose aging has not progressed enough for a facelift. Some of the most popular non-surgical facelift options include:
Liquid: A liquid facelift uses a combination of neurotoxins and fillers to lift and rejuvenate the face for a younger look. This is a great option for people in their 30s and 40s who are seeing more obvious aging, but are not ready for facelift surgery.
Fat Grafting: Volume loss can be one of the first changes noticed in the aging process. By using your own fat, volume can strategically be replaced to maintain a youthful and vibrant appearance.
Facetite: A combination of radiofrequency, heat, and non-surgical liposuction to tighten the skin and structures of the skin. Ideal for younger patients with extra skin, mild sagging, and good quality skin. It can even provide results to people who do not want facelift surgery at all. Though, it does not remove skin, it is typically combined with Morpheus8 Radiofrequency microneedling to help with skin texture, additional tightening, and more.
Thread Lift: A thread lift uses biodegradable, absorbable threads to manually lift the structures of the face. This method is still not widely used or accepted by all providers, but may provide some temporary lift for patients interested in a younger look.
Laser: Lasers are becoming a more popular non-surgical option for skin tightening. Like with other non-surgical options, it is ideal for people with anatomy not quite ready for a full facelift. This is one of the more intense non-surgical options and can be performed surgically in some cases. The laser helps improve skin quality and tighten loose skin.
When you come in for your facelift surgery with Dr. Jindal, you will be evaluated for surgery and then placed under local anesthesia. From there, Dr, Jindal will make the necessary incisions behind the ear and potentially in the hairline or in front of the ear. He will remove the excess and sagging skin and tissue before finally tightening the skin over your natural anatomy.
Once finished, Dr. Jindal will stitch the incisions carefully. The entire surgery usually takes one to two hours, though it can take longer if you choose to combine it with other procedures such as a brow lift or neck lift.
Frequently Asked Questions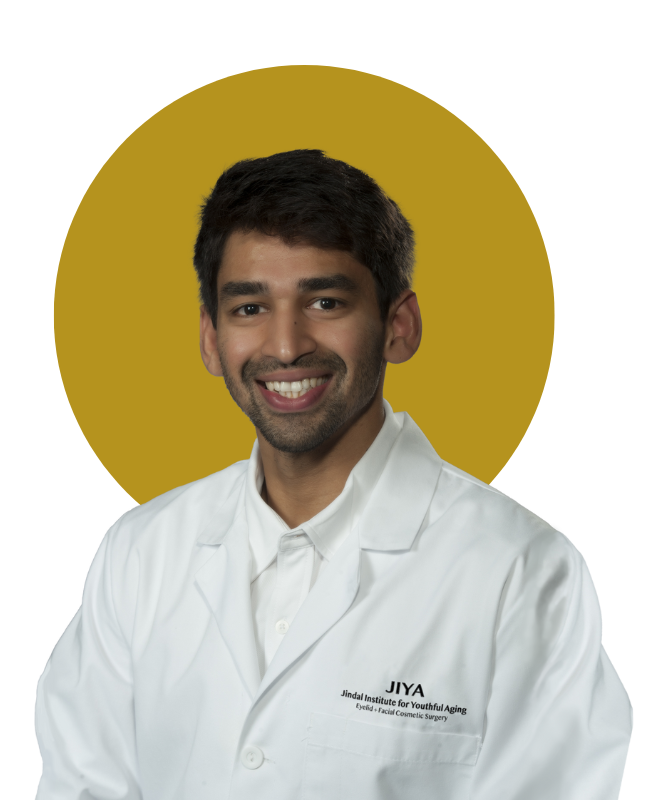 The Best Facelift In Raleigh, NC With Dr. Sumeet Jindal
The Jindal Institute For Youthful Aging and Dr. Jindal are leaders in the Raleigh area when it comes to facial rejuvenation. Whether you are interested in injectables or a facelift, Dr. Jindal can help you put together a customized treatment plan that will address your unique anatomy and goals. The Jindal Institute For Youthful Aging provides the best facelift Raleigh offers.
Dr. Sumeet Jindal has several years of experience in facial surgery including within the ophthalmology and cosmetic industries. He is one of the top surgeons in the Raleigh area who addresses and treats facial aging. Dr. Jindal uses a comprehensive approach to recommend only the best treatments that fit your anatomy, goals, and preferences.
To learn more and schedule a consultation with Dr. Jindal, call us or reach out online via contact form or Price Simulator.